The Demaria's lab has a central interest in addressing the molecular mechanisms whereby ionizing radiation modulates tumor immunogenicity, and exploiting this property of radiation to achieve a therapeutic synergy with immunotherapy in pre-clinical tumor models and in cancer patients. We have recently demonstrated that an enzyme called TREX1 and implicated in autoimmune diseases and viral infections also regulates radiation therapy's ability to trigger an immune response against the cancer. TREX1 regulates the levels of DNA displaced to the cytosol as a consequence of radiation-induced DNA damage, hindering the activation of type I interferon via the cGAS/STING pathway. Thus, we are currently investigating which pathways link DNA damage repair to innate immune sensing and activation of adaptive anti-tumor immunity in the context of cancer. In addition, we have recently identified mutation-generated CD8 T cell epitopes that are selectively exposed in irradiated cancer cells and we are currently determining their contribution to immune-mediated rejection of irradiated and non-irradiated tumors.
MEMBERS
Sandra Demaria, MD
Principal Investigator
Sandra Demaria, M.D., a native of Turin, Italy, obtained her M.D. from the University of Turin, and then moved to New York for her post-doctoral training in immunology as a Damon Runyon-Walter Winchell Cancer Research Fund awardee, followed by a residency in anatomic pathology at NYU School of Medicine (NYU SoM). She remained on the faculty at NYU SoM until 2015 raising to the rank of Professor. She is currently Professor of Radiation Oncology and Pathology at Weill Cornell Medicine in New York City. Dr. Demaria is internationally known for her studies demonstrating the synergy of local radiation therapy with different immunotherapeutic agents in pre-clinical models of cancer. She was the first to show that radiotherapy can convert tumors unresponsive to immune checkpoint inhibitors into responsive ones, a finding being translated in several clinical trials at multiple institutions. As a breast cancer pathologist Dr. Demaria has also studied the immunological microenvironment of breast cancer in patients, and therapeutic strategies to modulate the immune infiltrate in preclinical breast cancer models. Her current work is funded by the US National Cancer Institute and by several private foundations. She has held leadership positions in national professional societies, including the Society for Immunotherapy of Cancer (SITC) where she served on the Board, the AACR Cancer Immunology Working Group Steering Committee, and the Radiation Research Society. She serves in the editorial board of several journals, including The Journal of Immunology, Clinical Cancer Research, and Journal for ImmunoTherapy of Cancer. 
Erik Wennerberg, PhD
Post-Doctoral Fellow
Claire Lhuillier, PhD
Post-Doctoral Fellow
Nils-Petter Rudqvist, Ph.D.
Post-Doctoral Fellow
Sheila Spada, Ph.D.
Post-Doctoral Fellow
Yasmeen Sarfraz, M.S.
Lab Manager
Maud Charpentier, Ph.D.
Post-Doctoral Fellow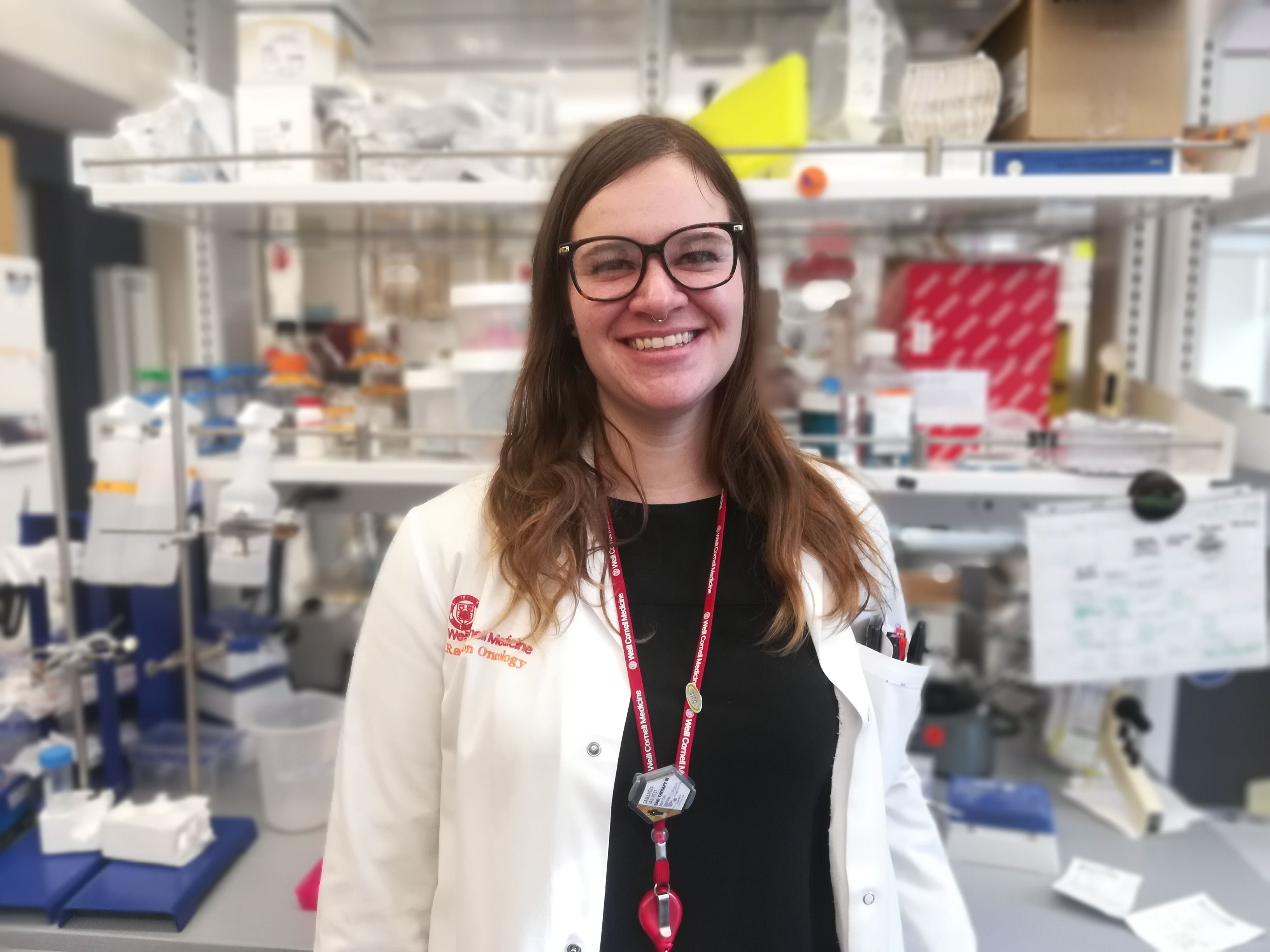 Samantha Van Nest, Ph.D.
Post-Doctoral Fellow
Samantha obtained her PhD in Medical Physics at the University of Victoria on Vancouver Island, Canada. Her research interests include developing techniques for the personalization of radiation therapy including spectroscopic and sequencing approaches. As a Postdoctoral Associate with Dr. Demaria, her research investigates the use of  primary organoid models for optimizing radiation therapy  and immunotherapy combination treatments. She is also developing techniques to use exosome and extracellular vesicles to inform optimal radiation therapy doses for patient treatments. In her free time, you can find Samantha camping in the forests, kayaking, or caving throughout North America. 
Recent Publications 
Galluzzi L., Vanpouille-Box C., Bakhoum S.F. Demaria S. SnapShot: CGAS-STING signaling

. 

Cell

, 2018. 173(1): p. 276–276.e1. PMID: 29570996

Rudqvist NP, Pilones KA, Lhuillier C, Wennerberg E, Sidhom JW, Emerson RO, Robins HS, Schneck J, Formenti SC, Demaria S. Radiotherapy and CTLA-4 Blockade Shape the TCR Repertoire of Tumor-Infiltrating T Cells.

Cancer Immunol Res

. 2018 Feb;6(2):139-150. PMID: 29180535

Vanpouille-Box C, Formenti SC, Demaria S. Towards precision radiotherapy for use with immune checkpoint blockers

.

Clin Cancer Res

2018, 24(2):259-265. PMID: 28751442

Vanpouille-Box C, Alard A, Aryankalayil MJ, Sarfraz Y, Diamond JM, Schneider RJ, Inghirami G, Coleman CN, Formenti SC, Demaria S. DNA exonuclease Trex1 regulates radiotherapy-induced tumor immunogenicity

.

Nat Commun

. 2017; 8:15618. PMID: 28598415

Wennerberg E, Lhuillier C, Vanpouille-Box C, Pilones KA, García-Martínez E, Rudqvist NP, Formenti SC, Demaria S. Barriers to radiation-induced in situ tumor vaccination

.

Front Immunol. 2017 Mar 13;8:229.

PMID: 28348554

Dieci MV, Radosevic-Robin N, Fineberg S, van den Eynden G, Ternes N, Penault-Llorca F, Pruneri G, D'Alfonso TM, Demaria S, Castaneda C, Sanchez J, Badve S, Michiels S, Bossuyt V, Rojo F, Singh B, Nielsen T, Viale G, Kim SR, Hewitt S, Wienert S, Loibl S, Rimm D, Symmans F, Denkert C, Adams S, Loi S, Salgado R; International Immuno-Oncology Biomarker Working Group on Breast Cancer. Update on tumor-infiltrating lymphocytes (TILs) in breast cancer, including recommendations to assess TILs in residual disease after neoadjuvant therapy and in carcinoma in situ: A report of the International Immuno-Oncology Biomarker Working Group on Breast Cancer. Semin Cancer Biol

. 2017; Oct 9.

pii

: S1044-579X(17)30217-1.

doi

: 10.1016/j.semcancer.2017.10.003. PMID: 29024776

Demaria S, Coleman CN, Formenti SC. Radiotherapy: Changing the Game in Immunotherapy

.

Trends in Cancer

, 2016, 2(6):286-294. PMID: 26270858

Vanpouille-Box C., Diamond J.M., Pilones K.A., Zavadil J., Babb J.S., Formenti S.C., Barcellos-Hoff M-H., Demaria S. 2015. Transforming Growth Factor (TGF) β is a master regulator of radiotherapy-induced anti-tumor immunity

.

Cancer Res

, 2015; 75 (11): 2232-42. PMID: 25858148

Demaria S., Golden E.B., Formenti S.C. 2015. The Role of Local Radiation Therapy in Cancer Immunotherapy

.

JAMA Oncol

, 2015; 1(9):1325-32. PMID: 26270858
For a complete list of peer-reviewed publications from Sandra Demaria, please visit here.