Lab Overview
The focus of the Marciscano Lab is to understand the molecular basis by which radiation (1) promotes immunogenicity, (2) promotes immune suppression and (3) how this balance can be therapeutically exploited to improve anti-tumor immunity and tumor cure with radiation.  
Fundamentally, we hypothesize that radio-immunogenic and non-radio-immunogenic tumors harbor distinct regulatory mechanisms and distinct immune contexture that underlies the differences in treatment response observed in patients. Through comprehensive immune, transcriptomic and genomic profiling of the irradiated tumor microenvironment in both human and mouse tissues, we aim to dissect these mechanisms and identify novel targets for immune-based intervention. We also have specific interest in developing preclinical models of orthotopic image-guided radiation therapy on the small animal radiation research platform (SARRP) that closely mimics stereotactic radiation as delivered in the clinic. 
Our research program largely falls under discovery and validation of novel, effective and potentially synergistic combinations of radiotherapy and immunotherapy. Our work spans multiple scientific disciplines, including radiation oncology, immunotherapy, basic immunology, cancer biology, and drug development (particularly novel RT-drug combos). We have a clear and deliberate translational focus in our lab rooted in robust preclinical mechanistic/scientific rationale and an ultimate mission to bring promising therapeutics to patients via early-phase clinical trials. Reverse translation is also an important aspect of our work, seeking to understand determinants of response and/or mechanisms of resistance in responders and non-responders using patient samples. 
For more details on our projects please inquire within! 
Members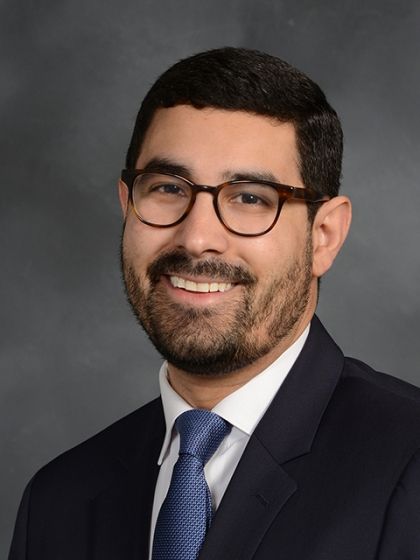 Ariel E. Marciscano, MD
Principal Investigator
Dr. Ariel E. Marciscano is a board-certified radiation oncologist and Assistant Professor of Radiation Oncology at Weill Cornell Medicine/New York Presbyterian Hospital. He is a New York/New Jersey native. He received his undergraduate degree in Biology at Georgetown University where he was a Howard Hughes Medical Institute (HHMI) undegraduate research scholar. He received his M.D. from New York University School of Medicine during which time he studied radiosensitization of glioma via TGFbeta blockade in the Barcellos-Hoff laboratory. He completed a medical internship at Massachusetts General Hospital and residency training in radiation oncology at The Johns Hopkins Hospital. During his time at Johns Hopkins, Dr. Marciscano studied mechanisms of synergy of radiation and immunotherapy in the Bloomberg-Kimmel Institute for Cancer Immunotherapy in the laboratory of Charles G. Drake and subsequently completed a fellowship in Immunotherapy at the NCI, Center for Cancer Research. Dr. Marciscano joined the faculty at Memorial Sloan Kettering focusing on genitourinary cancers and metastatic disease with research initiatives in combining stereotactic radiation with immunotherapy for patients with metastatic cancer and developing novels methods to non-invasively treat and monitor response to stereotactic radiation. He has published several peer-reviewed manuscripts, review articles and book chapters and regularly presents his research at national and international scientific meetings.
Dr. Marciscano is currently a faculty member at Weill Cornell Medicine as Assistant Professor of Radiation Oncology. In his current role, he serves as Director of Radiation Therapy Preclinical Core (RTPC) and runs a research laboratory focusing on optimizing radiation-immunotherapy synergy, novel radiation-drug combinations and understanding the immune response to stereotactic radiation within the tumor microenvironment. He is also a member of the Radiation Oncology Clinical Research Office (ROCRO) providing a link between preclinical and clinical initiatives within the Department of Radiation Oncology.
Post-Doctoral Research Associate Announcement 
We are excited to announce that we are actively recruiting to the Marciscano Lab!  
The Marciscano Lab in the Department of Radiation Oncology at Weill Cornell Medicine (WCM) is seeking a creative, motivated postdoctoral research associate interested at working at the interface of radiation oncology and tumor immunology. This is a unique opportunity to join a vibrant, collaborative and cohesive team of basic and translational investigators with an international reputation for expertise in the field of radio-immunotherapy. 
To apply send a brief letter of interest, CV and the list of 3 references (with complete address/e-mail) to Dr. Ariel E. Marciscano (arm7007@med.cornell.edu)  
Please write: "Postdoctoral application" in the subject heading  
Contact: Ariel E. Marciscano (PI) and Yasmeen Sarfraz (Radiation Oncology Lab Manager)  
WCM is an equal opportunity employer.  We look forward to your application!