June 1, 2015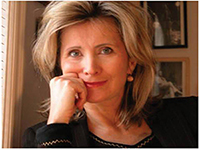 We are delighted to announce that Dr. Silvia Formenti, an international expert in the use of radiation therapy for the treatment of cancer, is appointed Chair of the newly established Department of Radiation Oncology at Weill Cornell Medical College and Radiation Oncologist-in-Chief at NewYork-Presbyterian/Weill Cornell Medical Center, effective April 15. She has also been named Associate Director of Radiation Oncology at the Sandra and Edward Meyer Cancer Center at Weill Cornell. Dr. Formenti was Chair of Radiation Oncology at New York University Langone Medical Center.
In her new roles, Dr. Formenti will expand and enhance the existing radiation oncology program, building upon its reputation of excellence in translational research to better investigate, target and treat individual patients' unique cancers. Faculty in the department will investigate precision medicine approaches to radiation oncology, focusing on combining radiotherapy with immunotherapy and other modifiers of the tumor microenvironment to design advanced treatments and therapies that are tailored to each patient's individual tumor.
A recognized leader in radiation oncology and breast cancer research, Dr. Formenti's groundbreaking work has transformed the paradigm in radiation biology, demonstrating the efficacy of combining radiotherapy with immunotherapy to control cancer cell growth in solid tumors. She has published more than 170 scholarly papers in high-impact journals such as JAMA and the Journal of Clinical Oncology.
Dr. Formenti received her medical degree in Italy from the University of Milan, where she attained board certification in medical oncology, radiology and radiation oncology. She was awarded a competitive grant from the Italian National Research Council (Comitato Nazionale Ricerca or CNR) to work in human monoclonal antibodies against colorectal cancer at the University of Southern California Norris Comprehensive Cancer Center. A recipient of an Audrey Meyer Mars career development award from the American Cancer Society, she performed AIDS and lymphoma research, and then completed her residency and attained board certification in radiation oncology.